HughesNet Gen5 Pricing (Business Internet) for USVI & BVI
High Speed Satellite Internet Anywhere
The Perfect Solution for US Virgin Islands and British Virgin Islands
SCROLL SIDEWAYS TO VIEW PLANS
BUSINESS BACKUP
2
Plan Speeds
25 Mbps Download
3 Mbps Upload
Antenna Size & Radio
.98m & 1W Ka
Download Threshold
Anytime Allowance 2 Gb
Dynamic IP Address
Included
Static IP Address
$20/month
BUSINESS BACKUP
10
Plan Speeds
25 Mbps Download
3 Mbps Upload
Antenna Size & Radio
.98m & 1W Ka
Download Threshold
Anytime Allowance 10 Gb
Dynamic IP Address
Included
Static IP Address
$20/month
BUSINESS
35
Plan Speeds
25 Mbps Download
3 Mbps Upload
Antenna Size & Radio
.98m & 1W Ka
Download Threshold
Business Period 25 Gb
Anytime Allowance 10 Gb
Total per Month 35 Gb
Dynamic IP Address
Included
Static IP Address
$20/month
BUSINESS
50
Plan Speeds
25 Mbps Download
3 Mbps Upload
Antenna Size & Radio
.98m & 1W Ka
Download Threshold
Business Period 25 Gb
Anytime Allowance 25 Gb
Total per Month 50 Gb
Dynamic IP Address
Included
Static IP Address
$20/month
BUSINESS
75
Plan Speeds
25 Mbps Download
3 Mbps Upload
Antenna Size & Radio
.98m & 1W Ka
Download Threshold
Business Period 25 Gb
Anytime Allowance 50 Gb
Total per Month 75 Gb
Dynamic IP Address
Included
Static IP Address
$20/month
BUSINESS
100
Plan Speeds
25 Mbps Download
3 Mbps Upload
Antenna Size & Radio
.98m & 1W Ka
Download Threshold
Business Period 25 Gb
Anytime Allowance 75 Gb
Total per Month 100 Gb
Dynamic IP Address
Included
Static IP Address
$20/month
BUSINESS
150
Plan Speeds
25 Mbps Download
3 Mbps Upload
Antenna Size & Radio
.98m & 1W Ka
Download Threshold
Business Period 50 Gb
Anytime Allowance 100 Gb
Total per Month 150 Gb
Dynamic IP Address
Included
Static IP Address
$20/month
BUSINESS
200
Plan Speeds
25 Mbps Download
3 Mbps Upload
Antenna Size & Radio
.98m & 1W Ka
Download Threshold
Business Period 50 Gb
Anytime Allowance 150 Gb
Total per Month 200 Gb
Dynamic IP Address
Included
Static IP Address
$20/month
BUSINESS
250
Plan Speeds
25 Mbps Download
3 Mbps Upload
Antenna Size & Radio
.98m & 1W Ka
Download Threshold
Business Period 50 Gb Anytime Allowance 200 Gb Total per Month 250 Gb
Dynamic IP Address
Included
Static IP Address
$20/month
BUSINESS
300
Plan Speeds
25 Mbps Download
3 Mbps Upload
Antenna Size & Radio
.98m & 1W Ka
Download Threshold
Business Period 50 Gb
Anytime Allowance 250 Gb
Total per Month 300 Gb
Dynamic IP Address
Included
Static IP Address
$20/month
BUSINESS
350
Plan Speeds
25 Mbps Download
3 Mbps Upload
Antenna Size & Radio
.98m & 1W Ka
Download Threshold
Business Period 50 Gb
Anytime Allowance 300 Gb
Total per Month 350 Gb
Dynamic IP Address
Included
Static IP Address
$20/month
BUSINESS
400
Plan Speeds
25 Mbps Download
3 Mbps Upload
Antenna Size & Radio
.98m & 1W Ka
Download Threshold
Business Period 50 Gb
Anytime Allowance 350 Gb
Total per Month 400 Gb
Dynamic IP Address
Included
Static IP Address
$20/month
BUSINESS
450
Plan Speeds
25 Mbps Download
3 Mbps Upload
Antenna Size & Radio
.98m & 1W Ka
Download Threshold
Business Period 50 Gb
Anytime Allowance 400 Gb
Total per Month 450 Gb
Dynamic IP Address
Included
Static IP Address
$20/month
BUSINESS
500
Plan Speeds
25 Mbps Download
3 Mbps Upload
Antenna Size & Radio
.98m & 1W Ka
Download Threshold
Business Period 50 Gb
Anytime Allowance 450 Gb
Total per Month 500 Gb
Dynamic IP Address
Included
Static IP Address
$20/month
BUSINESS
550
Plan Speeds
25 Mbps Download
3 Mbps Upload
Antenna Size & Radio
.98m & 1W Ka
Download Threshold
Business Period 50 Gb
Anytime Allowance 500 Gb
Total per Month 550 Gb
Dynamic IP Address
Included
Static IP Address
$20/month
BUSINESS
1TB
Plan Speeds
25 Mbps Download
3 Mbps Upload
Antenna Size & Radio
.98m & 1W Ka
Download Threshold
Business Period 50 GB
Anytime Allowance 1 TB
Total per Month 1074 GB
Dynamic IP Address
Included
Static IP Address
$20/month
| Extra GB | 1 GB | 2 GB | 3 GB | 5 GB | 10 GB | 20 GB | 25 GB | 30 GB | 40 GB | 50 GB |
| --- | --- | --- | --- | --- | --- | --- | --- | --- | --- | --- |
| Price (Each) | $3.00 | $6.00 | $9.00 | $15.00 | $30.00 | $60.00 | $75.00 | $90.00 | $120.00 | $150.00 |
* Lease option requires a 2-year commitment or pay early exit fee of $240 USD.
2+ Gbps of capacity in Puerto Rico & US Virgin Islands
Uplink gateway in Gilbert, AZ.
1.8 Gbps forward capacity
400 Mbps return capacity
0.98m / 2w (estimated)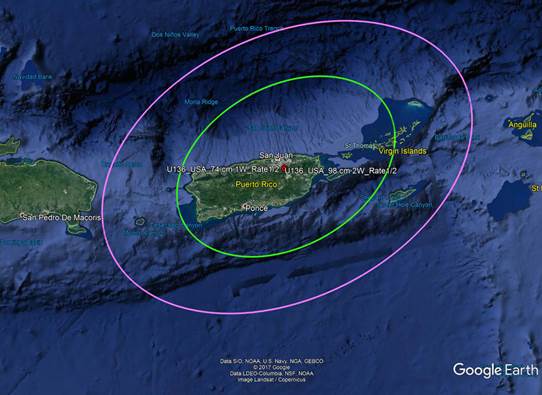 Remote Location
Price
H/W Config
St. John USVI
$600
.98m / 1W
Anagada Island
$800
.98m / 2W
Virgin Gorda
$800
.98m / 2W
St. Thomas
$600
.98m / 1W
St. Croix
$800
.98m / 2W
Tortola
$800
.98m / 2W
Jost Van Dyke
$600
.98m / 1W
Anegada
$800
.98m / 2W
Norman
$800
.98m / 2W
Peter
$800
.98m / 2W
Salt
$800
.98m / 2W
Ginger
$800
.98m / 2W
Cooper
$800
.98m / 2W
Culebra
$600
.98m / 1W
Add $75 for trimast, plus shipping
Gen5 BOM
 
P/N
Bundle Price
Spare Part Price
Jupiter – HT2000W/0.98m/1w
HT2000W Modem
1505216-0203
$600
$225
1w radio LHCP
1502938-0001
$255
0.98m antenna (2 parts) (no-logo)
1504178-0101/-0002
$275
Jupiter – HT2000W/0.98m/2w
HT2000W Modem
1505216-0203
$800
$225
2w radio LHCP
1504730-1002
$350
0.98m antenna (2 parts) (no-logo)
1504178-0101/-0002
$275
Mount & cables are excluded, 12 month warranty on all parts.
Trimast available for $75. Trimast pipe for ceiling or wall.
Order 4 or more systems and receive free shipping to anywhere in the mainland USA.
Jupiter HT2000 Satellite Router information
Gen5 Virgin Islands High Speed Internet
New Customer Guide
Gen5 Virgin Islands High Speed Internet – Commitment Options
Option 1: Purchase Equipment with 2-Year Commitment – $600
Option 2: Purchase Equipment with No Commitment – $1000
Service can be suspended or cancelled at any time with no penalty
Gen5 Virgin Islands High Speed Internet BI Service – Bandwidth Usage
Bandwidth Allocations & Management
Monthly Usage Allowances (download & upload)
Usage starts on day of modem activation
Business Period Bytes: 8AM to 6PM local time
Anytime Allowance Bytes: 24×7
Status Meter: Tracks usage and provides threshold alerts
Restore Tokens & Token Management
Instantly increase monthly usage allowance
Unused tokens/data will be carried forward to future months
Term, Cancellation, Warranty VAR
Service Term: 24 months
Seasonal Suspend is supported
6 Month max term, automatically restarts
$20/site/month administrative charge
Service Termination
$400 Service Termination Fee for first 3 months
Fee reduces $15 per month thereafter
No refund for returned equipment
Warranty
Gen5 Hardware Update
2000W Modem
Is the only supported modem in Gen5
The Wifi is always included, and not optional
The HT2000W is fully backwards compatible on Echostar 17 & 19
J2WW does not support the HT2000W (yet)
1W Radio
Replaced with a new, functionally equivalent unit
No impact to customers
Gen5 Remotes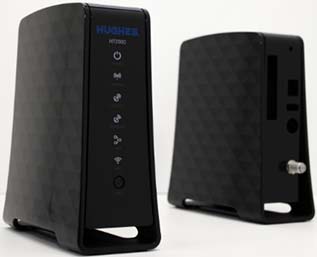 HT2000W w/ Integrated WiFi
Front & Back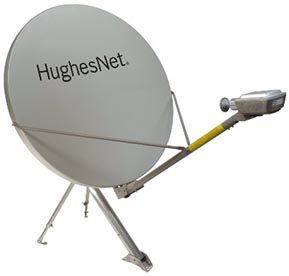 0.98m Ka Antenna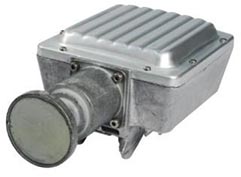 1W
Single IFL
Single Screw
Switchable Polarity
Weighs only 3 lbs
Custom Built
Integrated Dual-Band WiFi
WiFi Router Features
Dual-Band: 802.11n (2.4GHz) & 802.11ac (5GHz)
Internal MIMO (Multiple In-Multiple Out) antennas
LED Indicator for WiFi status
Push button for WPS
4 GigE Ethernet ports
Can be configured locally via web interface
System Control Center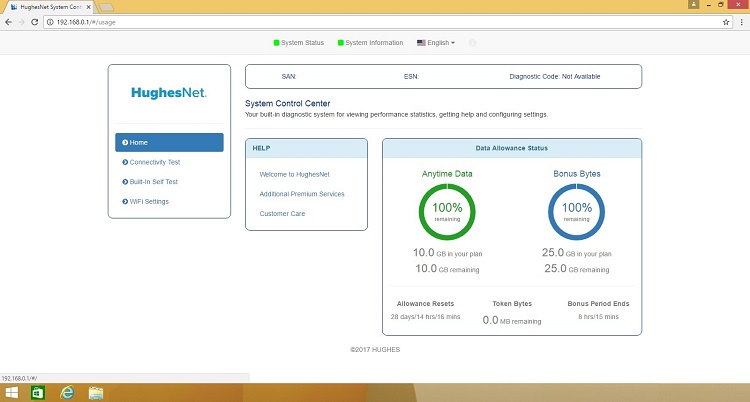 Transportable & Modem Relocation
Relocation supported in Jupiter
Modem relocation only available to resellers
No call to NOC required to move site
Simply re-register modem after moving
Beams alternate polarity
If auto-deploy is not used, feedhorn may need rotation
Transportable API via OpenAMIP
C-Com and Wineguard are fully qualified today
Service Commitment and Early Termination Fees
All Service Plans except for the Recovery Act Program Basic Service Plan require a commitment of twenty-four (24) months. If you have subscribed to any plans others than the Recovery Act Program Basic Service Plan, and you terminate service prior to the expiration of the commitment, you will owe, and your credit or debit card will be charged, the Early Termination Fees described below. In addition, you will be required to return the applicable Equipment to Hughes whenever you terminate your service, or you will be required to pay the Unreturned Equipment Fee described below.
Early Termination: Purchase Option (equipment and standard installation purchased upfront)
If you cancel your order before installation, you will be refunded the amount that was collected at time of order.
If you cancel after activation but before the end of your 24-month term commitment, you will be charged a Service Termination Fee of up to $400. The exact amount of the Service Termination Fee will be $400 for the first ninety (90) days after activation of the HughesNet Service. Thereafter, the amount will decrease by $15 per month for each month of active Service.
Virgin Virgin Virgin Virgin Virgin Virgin Virgin Virgin Virgin