Revolutionary MIMO TDMA Protocol System
airMAX M series Technology provides performance improvements in latency, throughput, & scalability compared to other outdoor systems in its class.

The NanoStation M combines Powerful airMAX CPE radio and MIMO antenna array performance in a compact form factor.
SPECS
Bands
2.4GHz, 3GHz, 5GHz
Antenna Gain
up to 13dBi or 16dBi
Output Power
up to 600mW
Line of Sight
5km / 10km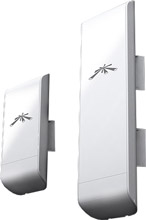 The NanoBridge M combines great throughput, noise immunity, and a highly directive antenna for hi-performance CPE applications.
SPECS
Bands
2.4GHz, 3GHz, 5GHz
Antenna Gain
up to 25dBi
Output Power
up to 200mW
Line of Sight
20km