Description
HughesNet DAPT2 (DiSEqC Antenna Pointing Tool)
1501471-0012
THIS DAPT2 METER WORKS WITH ALL HUGHESNET / DIRECWAY SYSTEMS ON THE MARKET! YOU MUST HAVE A PORTABLE / MOBILE EQUIPMENT PACKAGE" & "PORTABLE / MOBILE SERVICE PLAN" WITH A MOBILE DEALER LIKE HOUSTON MEDIA SYSTEMS, OR BE A CERTIFIED INSTALLER IN ORDER TO BE ABLE TO SELF-INSTALL OR MOVE HUGHESNET KA-BAND SYSTEMS AROUND! YOU CANNOT MOVE STANDARD HUGHESNET CONSUMER OR BUSINESS KA-BAND EQUIPMENT AROUND UNLESS YOU HAVE EQUIPMENT AND SERVICE FROM US OR ARE A CERTIFIED INSTALLER WITH A WORK ORDER FROM HUGHESNET ALLOWING THAT MOVE!  (Details below!)
This is the new HughesNet DAPT2 (DiSEqC Antenna Pointing Tool) w/ audible features for pointing the new Gen5 HT2000W, Gen 4 HT1000, and other Ka-band Satellite Internet Systems! The HughesNet DAPT2 is ALSO backwards compatible to work with the Ku band HN7000 (with an optional 22 KHz Filter) and with the HN9000 (with optional Squinters). The DAPT2 replaces the DAPT1 and the DirecWay OPI.   This new DAPT2 includes the audio output for pointing the new Gen5 systems!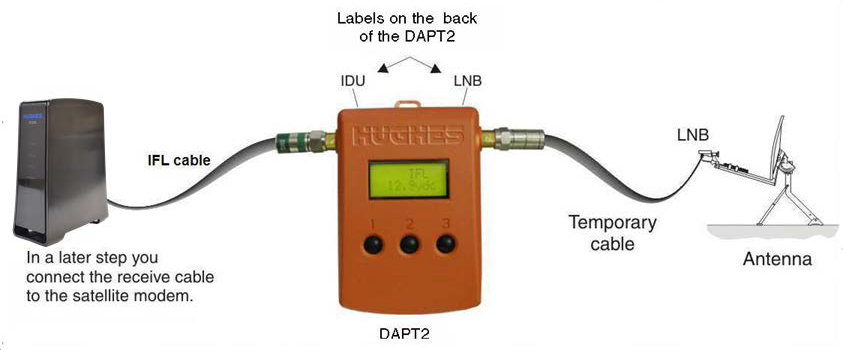 HughesNet Part #: 1501471-0012 DAPT2  (Replaces OPI Part number 1501471-00060. the orignial DAPT1) NOTE: You must have a 22Khz Filter in order to use the DAPT as an OPI with the HughesNet Ku-band Systems. Contact us for more information as they are only available in limited quantities!
NOTE: The HughesNet Ka-band systems use "spot beam" technology and CANNOT BE MOVED AROUND like the Ku-band systems could, UNLESS you have purchased a portable / mobile equipment package and mobile service from Houston Media Systems or another mobile dealer! Even if you only move a Ka-band system 35 – 50 feet, the system will know and you will get an error saying that the "move is not authorized!" So please do not order this DAPT2 unless you have or plan on purchasing mobile equipment and service or are a certified installer or work under a certified installer who has the ability to get a move authorized by HughesNet and so on!
As a side note, even if you are a certified installer, HughesNet will typically NOT ALLOW the consumer and small business Ka-band systems to be relocated more than once or twice a year! If you need portable or mobile capability, you will need to purchase equipment and service from a mobile dealer like Houston Media Systems! Please contact us for more information!